The Emmi-pet 100% Ultrasound Toothbrush does not function like conventional or electric toothbrushes which use mechanical friction. It utilizes the characteristics of cutting edge ultrasound which does the cleaning with no brushing required. Ultrasound technology has already been used for many decades with success in medicine. Using ultrasound for oral hygiene is absolutely harmless for animals. Ultrasound waves are air waves. The Emmi-pet 100% Ultrasound Toothbrush functions with an output of only 0.2 watt. The emmi-pet is certified by the specialised department for animal husbandry and animal welfare (FFT) in Austria as an animal protection oriented product. Peridontal disease is a progressive condition that if left untreated can have detrimental effects on your pets oral and overall health.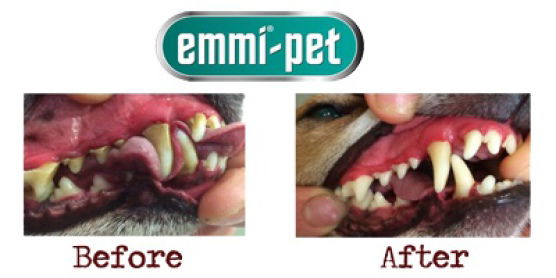 A tooth cleaning programme for your dog - our rates if included with a grooming appointment:
Cost of toothbrush and first consultation - £30.00 - usually takes about 30 minutes
All subsequent maintenance consultations - £15.00 - and we recommend that we clean the teeth at each grooming appointment - each session will take 10-15 minutes and is done during the bathing session
Our rates include a personal brush head for your dog and this will usually last for 15 treatments unless the brush is damaged (some dogs will chew the brush); replacement brush heads cost £8.00 for small and £10.00 for large.
Intensive Cleaning for our regular groom clients:
Some dogs require a more intensive programme of brushing to remove accumulated tartar - a series of 5 treatments is available for £130.00. This programme should be carried out over a short period with just a couple of days between treatments. We would aim to spend about 30 minutes brushing at each session and this usually delivers good results and fresher breath. Further treatments are available if required and if included with a groom the rate is £15.00, and without a groom the rate is £30.00
Teeth cleaning without a regular groom:
If your dog is not in need of a groom, but you would like us to clean their teeth, then we are happy to do so, and each session is available at £30.00, and purchase of a brush head is required - brush heads cost £8.00 for small and £10.00 for large
CLICK HERE TO CONTACT US FOR AN APPOINTMENT by phone or email
If you would like to purchase your own Emmi-Pet equipment, or other Emmi products, then you can do so through a our web shop http://jchappell.emmi-ultrasonic.de
The reasons why we like the emmi pet toothbrush:
It combats gingivitis and periodontitis
Fights oral cavity diseases
Prevents and removes tartar and plaque build up
Ideal for elderly dogs that cannot have an anaesthetic
Ideal as a preventive treatment for puppies and young dogs who have not yet developed excessive plaque and tartar
Cleans gums up to 12 mm deep with gentle ultrasound waves, no brushing necessary
Non invasive
Completely silent
No anaesthetic or sedation is needed
Used regularly it is a preventative treatment for teeth and gum disease.
Information from the manufacturers: Long term studies 2010 - 2017
The functions of our ultrasonic toothbrushes were clinically tested by the university of Witten/Herdecke by Prof. Dr. Dr. h. c. Peter Gängler and his team. The university of Witten/Herdecke confirmed:
"Unique dental cleaning, without any brush movements"
"Safely and thoroughly remove the biofilms of the plaque"
"Completely prevents the risk of tooth damage because of non-brushing application"
"Particularly recommended for sensitive teeth"
"Avoidance of gum injuries by abrasion-free application"
"Promotes the reduction of gingivitis with regular use"
"Cleans your teeth thoroughly and spares your gums - without brushing"
"No damage to the dental enamel"
Application Study
Dr. Annick Urfels from the university of Liège / Belgium confirmed:
"Two mothers, who have suffered from gum bleeding for years, have used the ultrasound technology to clean their teeth. Already after the 3rd application they were glad to see, that they were finally free from their gum bleeding.".
Theses
The dentists Dr. May and Dr. Denda from Frankfurt am Main confirm:
"The emmi-dent "toothbrush" which works only with ultrasound, removes tooth plaque just as securely as a hand toothbrush from the previous gold standart. It garantees the maintanance of healthy gingival conditions and prevents completely abraisive brush movements and therefore eliminates the risk of tooth damage and abrasion damage".
Winner
Pragodent Fair 2011 in the category Prevention.
The Most Important
Hundreds of thousands of satisfied users with their long-standing trust in our patented ultrasonic technology, products and our company.
pets at home, groom room, groomers spotlight, kelly davis, amy manser, joscelyn dorrian, julie lalou, look north, the muddy paw, groom with a view, purdeys dog grooming, shelleys dog grooming, pet industry federation, the wag wash, dog house grooming parlour, designs for canines, kd dog grooming studio, just four paws, just 4 paws, OX28 6BS, Oxford, Witney, Carterton, city & guilds dog grooming, 7763-02, 7863-03, handstripping, schnauzers, labradoodle, cockerpoo, border terrier, abingdon and witney college, woozelbears, heavenleyz, summit groomer training, passion grooms, happy hounds, snobby dogs, wren house, ada fielding, long hanborough, groom arts, grooming, cogges vets, tremain vets, medivet, my best friend, barking mad, out of the dog house, stowe vets, alice's home boarding, four paws pet hotel, paw pals, Hanborough pet services, holiday ark, wagging tails, nags and wags, archway kennels, blue cross, chipping Norton vets, honeybottom kennels, acremead boarding kennels, k9 playtime, four paws dog training club, Andrew forkner dog listener, oxford dog training company, headington dog training, goody 4 paws, canine dog training, emmi-pet, teeth cleaning